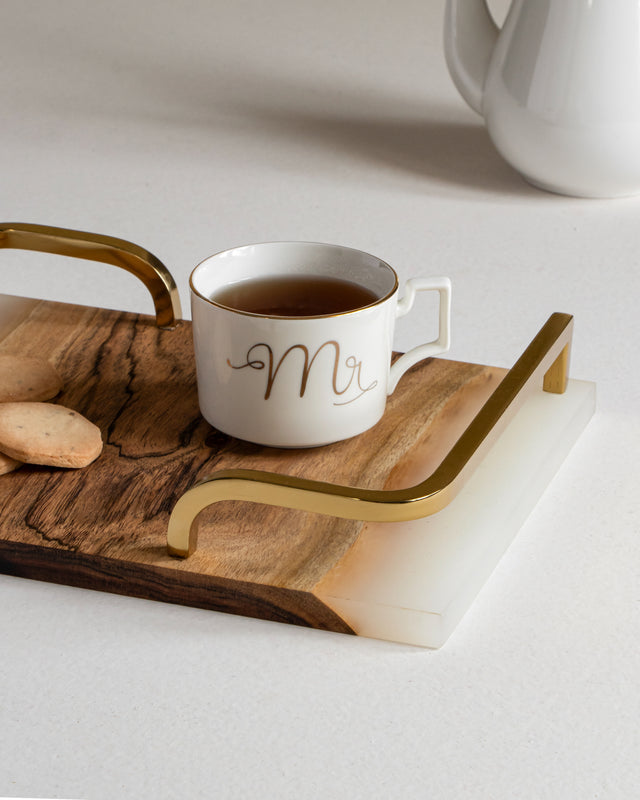 Icicle Wood & Epoxy Serving Tray - Small
Carefully crafted from natural wood & blended with Italian epoxy resin, this piece adds an artisan touch to any space. A polished surface highlights the epoxy river pattern while its raw wood underside gives it rustic charm.
Whether enjoyed as an everyday catchall or on special occasions, this piece is a standout. 
Inspired by pristine icy mountains, our icy serving tray with handcrafted gold polish handles will make a perfect base to decorate your tables.
DIMENSIONS
12 x 9 inches

MATERIAL
Live-Edge Acacia Wood & Epoxy Resin | Handles: Stainless Steel
FINISH & COLOUR
Wood: Natural | Epoxy: Frosted White | Handles: PVD
 

Handcrafted

 


Food Safe

Sustainable
FREQUENTLY ANSWERED QUESTIONS
Shipping timelines?
Shipping timelines varies as all our products are customizable in nature. Simply leave a note if you want any customizations in terms of size, font, color, etc. in the products and our team will reach out to you for more details.
Ideal delivery timelines:
Without customization: 6-9 working days*
With customization: 10-15 working days*

Do you ship overseas?
Yes, we do ship orders overseas. For more details, please go through our shipping policy
What is the engravement process?
Once you place an order with the engraving option, Our team will reach out to you for more details and provide you a complete personalized experience